This is the scene at my house today. My son is home sick from school with a stomach virus, and it was a late, late night last night as I cleaned up vomit and tended to his needs.
Despite the drudgery, that little voice calling out, "Mom" in the night was sweetness to my ears. My boy needed me. Children need their mothers. How nice it feels to be
needed,
and to have that ability to ease someone's pain. When we're not well, we
all
want comfort, someone to love us and tell us that everything is going to be OK. I could do that for my son, and despite my lack of sleep, and the fact that I'm writing this with the gas tank on empty, I was happy to be there for my sick child.
Honestly though, I wish
I
was the child in this picture, being held tightly by someone who loves me and knows how to take care of me. Thank goodness my husband is a hugger! He comforts me whenever I need it, and has talked me down from many ledges, metaphorically speaking. Bless him.
But I still have the need to hear those certain words, "It's going to be OK." With Lyme, no one can really say those things to us, can they? This illness is so
uncertain
.
As I've mentioned before in my blog, I was left with no option but to turn to my Heavenly Father for the comfort and reassurance I needed. It's sad to say that "I was left with no option", but to be honest, I often (wrongly) look for human comfort before spiritual comfort. And that is why I learned so much from Lyme, spiritually. It taught me where my hope
should
be at all times. God left me with no option but to turn to Him, and He did this to teach me. And truly, I'm totally OK with that. God gave me the direction and correction I needed.
When I was feeling much better, though, I started to slide away from Him. Not completely, of course, but as "life" took over again, I was feeling pretty good and pretty confident.
And here I am now, in a relapse. Not quite "back to square one", but still left wondering how this will all play out, and what my future is going to look like.
And I need God again. And I know He will take me back, and love me, and comfort me, because that's the kind of Father he is.
Thank you, Heavenly Father, for putting up with my flaws. I'm so sorry that I ignored You for so long, and that it took a life-threatening illness to wake me up. But thank you for that! You knew what I needed. You took something awful and made something good out of it. I don't want to keep sliding away from You every time I get well, so please hold me close, because my grip is not as strong as yours. I thank you for your comfort, and for reminding me that it's going to be OK, whether I'm healed or not. Thank you for being the loving Father you are, and for taking me back again and again. Amen.
I want to recommend a couple of prayer books. One is listed in my "Books" link and was just an invaluable resource for those times when I had so much to say to God, but couldn't find the words.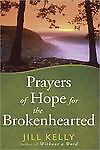 And this one, entitled
Jesus Today
, was brought to my attention by a friend of mine. It is a daily devotional by Sarah Young who suffers from.......Lyme disease! She tells her story at the start of the book. It's all too familiar. Anyway, I decided to buy the book because I knew that the daily readings would be from a perspective I could relate to. I'm hoping they will speak to my heart.
I do hope that you will find peace and comfort from the One who can provide beyond our comprehension. Open up your Bible or a prayer book, and let God speak to your heart today.